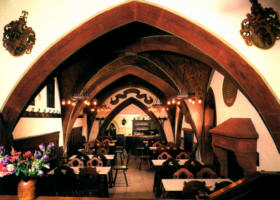 A huge thanks to all of our awesome Darlinghurst Ale Stars who came to last month's smokey session. It was a great night, full of smokey booze, food, trivia and some special guests joining us from Germany.
The first beer, kicking off the night, was the Schlenkerla Helles Lager, from the excellent Schlenkerla brewery in Bamberg, Bavaria. Despite being the only beer of the night that wasn't a smoked beer, it had a nice subtle smokey flavour from the rest of the brewers equipment.
We were lucky enough to have a chat to Adam Brown, a former member of the Taphouse crew who now works for Weyerbacher Malt's experimental brewery in Bamberg. He gave us a great insight into brewing in Bamberg, and the whole tradition behind Rauchbier.
We then had both the Schlenkerla Marzen and Weizen, both of which have a lot of that classic smokey flavour that Schlenkerla is renowned for. A lot of people tasted bacon and BBQ smoke. While we drank these ones, we were joined by Matthias Trum Live from the Schlenkerla Brewery. He talked us through the history of the brewery, what goes in to making the beers and how they serve the beers at their historic brewpub.
To finish the night off, we had the amazing Nøgne Ø 100% Peated Ale. Our Ale Stars are no strangers to those Norwegian brewers (we were lucky enough to have Kjetil, the head brewer in for a session last year), but this was a first for Ale Stars. Despite exhibiting a huge amount of peat smoke, this beer was surprisingly drinkable, with a really smooth golden ale texture.
Thanks to everyone for coming, we'll see you all at the next session on Wednesday July 24th featuring the awesome beers and awesome guys from Riverside Brewing, including Dave Padden